Stainless Steel Washdown Station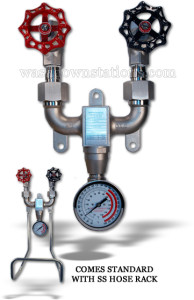 Manual Blender Hose Station: HCMX-S / Max Pressure: 125 psi
HCMX-SS Stainless Steel Washdown Station has been engineered for maximum reliability and operator safety. Using the proportional flow water control valves, the operator can adjust the mixing station to deliver the desired hot water temperature as indicated on the dial thermometer located in the mixed water discharge. By depressing the ergonomically designed failsafe trigger of the hand-held spray nozzle or the optional spray lance, the operator can direct a steady flow of hot water from a fine spray to a solid jet. Our Mixing Stations are widely used in dairy, pharmaceutical, food processing, chemical and industrial plants.
Features and Benefits:
Easily maintained
No special tool kits needed
Manually operated flow proportioning control valves
Check valves provided on both the water and steam connections to prevent back-flow
Discharge liquid temperature indicating dial gauge
Simple wall mounting design and "mount-compatibility" for easy installation
Discharge hose with swivel connections
Fail-safe trigger-actuated spray gun or shut-off lance
Stainless steel hose rack for convenient hose storage
Available Models
| | |
| --- | --- |
| MODEL | DESCRIPTION |
| HCMX-S-T | 300 series stainless steel, hot & cold water wall mounted mixer-hose station. Includes globe valves, check valves, hose rack, mounting bracket, and adjustable angle temperature gauge. |
| HCMX-S | 300 series stainless steel, hot & cold water wall mounted mixer-hose station. Includes globe valves, check valves, hose rack, and mounting bracket. |
Manual Blender Hose Station: 3600M-S / Max Pressure: 150 psi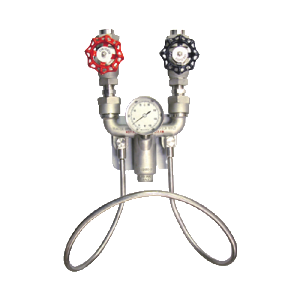 Model 3600M-S is a stainless steel hot and cold water mixing unit was specifically designed for thoroughly blending hot and cold water instantly by mixing supplied hot water with cold water to achieve required temperature output. The unit uses "Y" style body mechanics with lift check valves and ball joint unions for superior flexibility during installation. The Model 3600M-S inlet center lines have the same dimensions as most of our competitors' units. Our units come with a mounting plate for easy behind the unit cleanup, hose rack for easy user access to the hose, and an optional temperature gauge for accurate temperature readings at outlet.
Principal Parts, Material & Rating
Inlet / Outlet Diameter: 3/4″
Mixer Body: 300 Series Stainless Steel
Globe Style Valves: 300 Series Stainless Steel
Check Valves: 300 Series Stainless Steel
Temperature Gauge: (optional) Stainless Steel
Maximum Pressure: 150 PSI
Maximum Temperature: 200°F (93°C)
Weight: 20 Lbs.
Available Models
| | |
| --- | --- |
| MODEL | DESCRIPTION |
| 3600M-S-T | 300 series stainless steel, hot & cold water wall mounted mixer-hose station. Includes globe valves, check valves, hose rack, mounting bracket, and adjustable angle temperature gauge. |
| 3600M-S | 300 series stainless steel, hot & cold water wall mounted mixer-hose station. Includes globe valves, check valves, hose rack, and mounting bracket. |