Hose Reels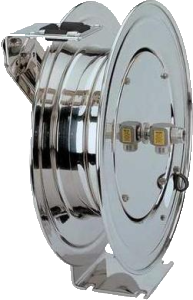 Features:
Dual axle support system with a 1″ axle for increased stability, reduction of vibration, and structural integrity.
Sturdy single pedestal chassis and frame to accommodate 50′ of any of our hose assemblies.
Professional grade heavy duty steel with durable powder coat finish or professional heavy duty electro-polished stainless steel.
Ribbed discs with rolled edges which are CNC spun to provide strength, safety, and durability. Standard 90° 1/2″ NPT inlet swivel connection in either brass or stainless steel.
Guide arm that adjusts to wall, floor, vehicle and overhead positions and has a solid, one-piece heavy gauge 1/4″ base and support post for maximum stability.
Enclosed factory-tuned and matched cartridge-style spring motor with non-corrosive stainless steel spring, pawl, and multi-position lock ratchet mechanism.
We've been selling high-performance, sturdy hot and cold water hose reels for over 2 decades. We have learned from experience what factories and plants require from commercial hose reels used in their hot water hose washdown equipment applications. Our heavy duty hose reels will provide you with years of service, assisting your cleaning crew in doing their washdown job as efficiently as possible.
Modern factory and plant managers and safety crews pay special attention to keeping large, hot water hoses off the ground, for several reasons. Wet hoses not only slow down the drying process on floors but also create a safety hazard, for tripping. Workers do not have to walk slowly if their heavy duty hot water hose is quickly and neatly wound on an automatic-retracting reel. In some applications, where it is not necessary to have stainless steel-based products, we can provide a lower-cost powder-coated reel that will also last a long time.
Our hot water commercial hose reels incorporate stable, heavy duty construction that has been used in the finest food and beverage production facilities worldwide. If you have any questions, please feel free to call us directly. Most of the time the person that answers will be able to immediately provide you with professional consultation on what industrial hose reel, hot and cold water hose, industrial water gun, and other accessories provide you with a one-stop-shop for all your hot water washdown equipment needs.
Specifications:
Inlet / Outlet diameter: 1/2" NPT

Material: Powder coated steel (304 Stainless Steel)

Electro-polished steel (316 Stainless Steel)

Weight: 69 lbs

Maximum water pressure: 300 PSI

Maximum water temperature: 200°F (93°C)

Maximum hose length: 50' @ 3/4" ID